A short film, The Guppy's Death, directed by Academy of Film and Creative Technology (AFCT) graduate Yi Han, has been nominated for awards at more than 10 international film festivals. The festivals include the Berlin International Art Film Festival and the All Asia Independent Film Festival. She also won the Best Student Film Award at the Berlin Independent Film Festival and the Best Short Film Award at the International Halicarnassus Film Festival.
Han graduated from XJTLU's BA Film and TV Production (now called BA TV Production) programme in 2021. While at the University, she directed several works, including The Guppy's Death, Falling in the Spring Nights, Drama Banquet, Only, and 411.
The Guppy's Death tells the story of Qiushui Shen, a young woman who likes to peer into other people's lives, particularly her neighbour's. She steals and reads the private letters piled up in her neighbour's mailbox in an attempt to satisfy her curiosity. From the letters, she learns that a lonely boy named Sheng Zhuang lives next door, and an intriguing love story unfolds.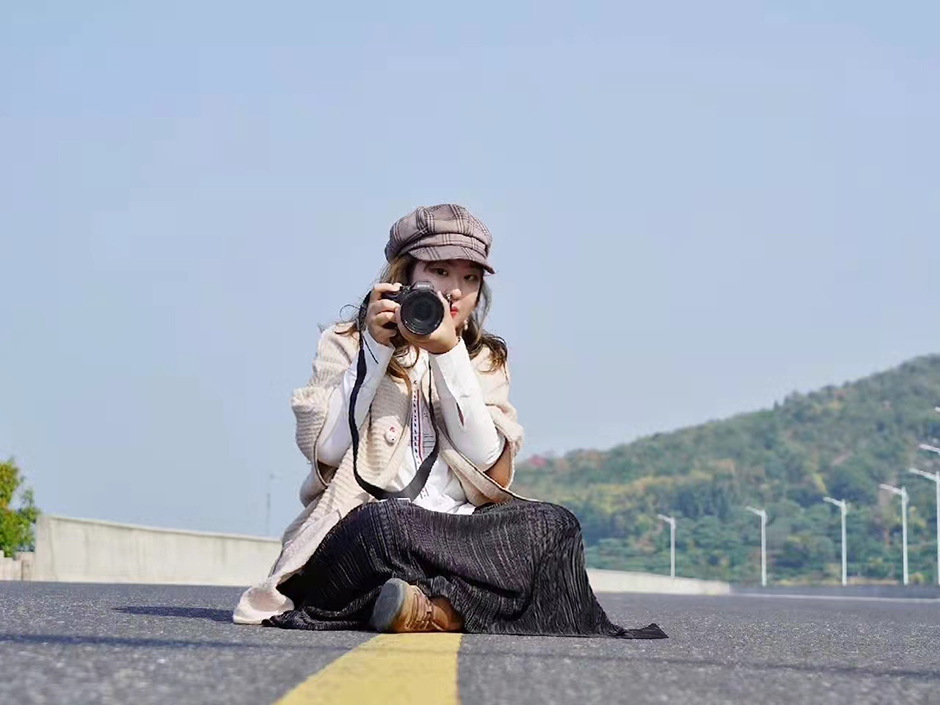 Yi Han
Changing paths
In 2017, Han originally began an undergraduate degree in Business Administration at XJTLU's International Business School Suzhou. Realising her passion for filmmaking, she decided to switch to Film and Television Production towards the end of her first year. Film and Television Production is a relatively new degree programme, and Han is part of only the second cohort of students to complete this course.
"Because the programme was so new when I swapped, nearly everything I knew about it came from the University's official website and other students. The choice felt like a gamble," Han says.
During her three years of study, Han learned how to work as a producer and director and mastered the professional knowledge and skills required for film shooting, sound design, video editing, TV production, and more.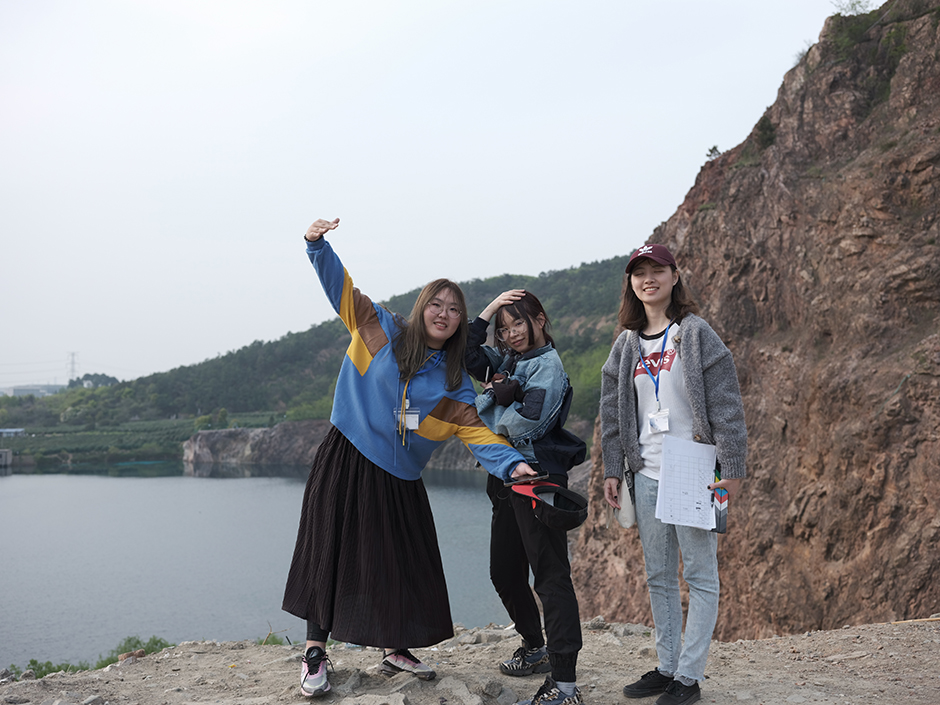 The crew shot one of the scenes at Emerald Lake
A rocky road
While making The Guppy's Death, Han and her team faced difficulties such as lack of funds, complicated film transitions and tight time schedules. Finally, they completed the film thanks to a great team effort. The experience taught Han became about many of the obstacles filmmakers have to overcome to be successful.
"As a director, simply shooting a movie is only the beginning of making it a success. There are so many things to do in the subsequent editing, publicity and distribution of the film. For example, dealing with continuity errors that were not noticed during the filming and problems with sound. The amount of work there is can make you feel nervous and anxious," Han says.
Han says she experienced a rollercoaster of emotions while making The Guppy's Death. Fortunately, Dr Cheng-Hung Lo, her Final Year Project supervisor, gave her great encouragement and support.
"During my academic discussions with Dr Lo, I realised that the expression of art should always respect one's own will and highlight the uniqueness of the individual. An art project can aim to present a discussion, open-ended result, or pose a question for discussion with the audience rather than directly stating the solution to the problem."
Professor Li-Chuan Mai, Vice President of AFCT and Dean of the School of Film and TV Arts (SoFTA), also gave Han a lot of help.
"I wanted to use the school's green screen and lighting equipment for photography. After reading my project proposal, Professor Mai quickly gave me permission and offered some good suggestions for improving my project."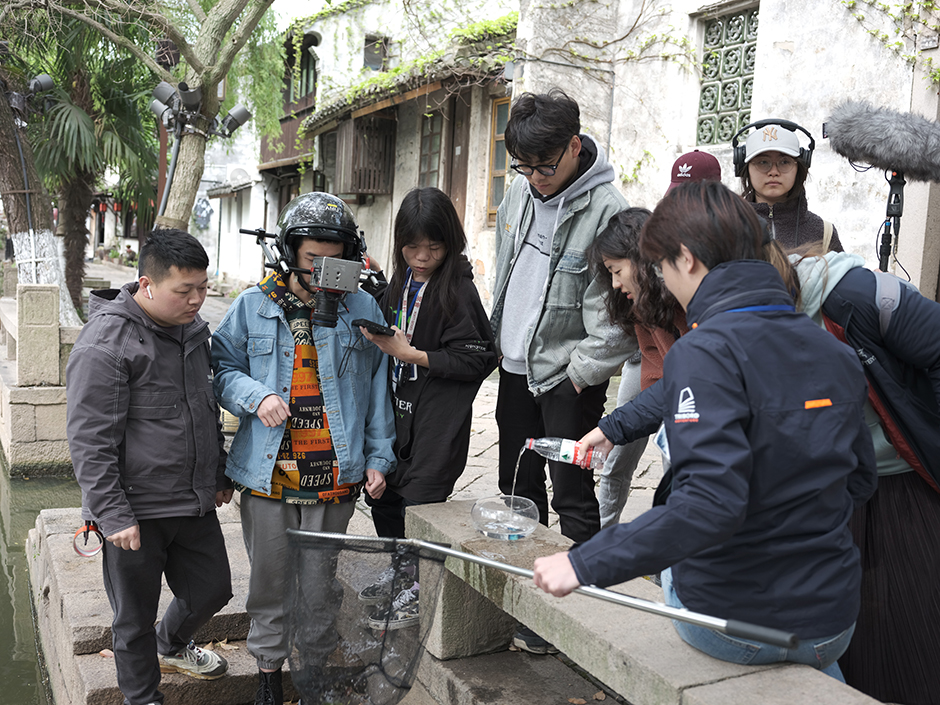 Another scene was filmed in Zhouzhuang water town
In 2021, Han was accepted by the Royal College of Art in London for a masters degree in Movie Imaging. She was unsure if she wanted to do that programme, and instead took a gap year to prepare and apply to a different programme, which led to another offer from University of the Arts London to do a masters degree in Film, Photography or Sound Arts. Han will start the course in September this year and pursue her passion for film.
Finding self-contentment
Han emphasises the importance of self-contentment when talking about her work preparation and life choices. For her, the anxiety caused by changing her degree, graduation season, applying for graduate studies and preparing her portfolio was only relieved by finding self-contentment.
"Find a way to accept yourself and not suffer from anxiety or feelings of failure because you don't get what you want," she says.
In Han's view, there are so many diverse paths to choose from in art that one has to follow their interests.
"No matter what your choice is, it is always necessary to have a love of life and a passion for creation."
By Yunji Tao
Translated by Chenyi Wang
Edited by Guojuan Wang, Luyun Shi and Catherine Diamond
Photos courtesy of Yi Han