Last month, at the 2022 British University and College Sport (BUCS) Weightlifting and Para Powerlifting Championships, a Xi'an Jiaotong-Liverpool University student stood on the podium with a silver medal around his neck – a first for a student from China.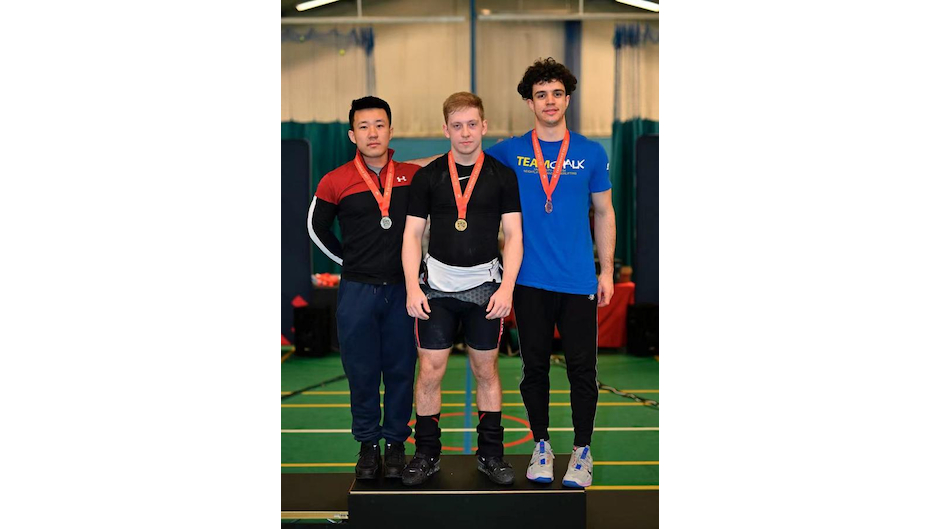 Haonan Wangjiang (left) stands with his fellow medallists
The weightlifter, Haonan Wangjiang, is currently completing his final year of BSc Applied Mathematics as part of the 2+2 programme in Liverpool, UK.
He represented the University of Liverpool in the 73kg division, and Wangjiang's silver medal is the best result ever achieved by a Chinese student in history and also the first weightlifting medal for the University of Liverpool.
The BUCS Weightlifting and Para Powerlifting Championships is a national event in the UK, with a strict training threshold and standard of achievement. This year, only three students from the University of Liverpool, including Wangjiang, were awarded the opportunity to compete in the final round at The Sports Village at St Mary's University in London.
The first lift
Wangjiang attended high school at the Youth Aviation School in Xi'an, where he was first introduced to CrossFit training and weightlifting in the school's physical training classes.
"The first time I touched a barbell and lifted it over my head, I fell in love with the sport."
After coming to Xi'an Jiaotong-Liverpool University, he joined the fitness club and served as the president between 2019 and 2020. While training with his teammates in the university weightlifting team, he also actively promoted the popularisation of public fitness. He organised a series of activities such as Fat Loss Month, Night Run and some basic fitness knowledge sharing seminars to help more students develop good fitness habits.
"I hope that through our promotion we can help break the stereotype of weightlifting. A lot of people dismiss it, thinking weightlifters are all short, fat and destroying their bodies.
"Contrary to popular prejudice, weightlifting is great for the development of strength, coordination, and flexibility and is extremely technically demanding."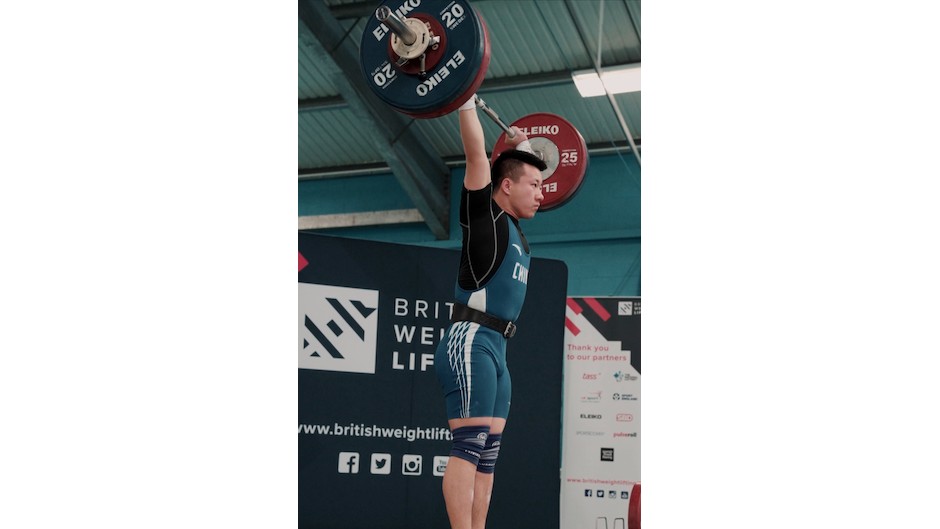 Perseverance in the face of challenges
In the three and a half years of training before standing on the podium, Wangjiang encountered many challenges. Weightlifting training requires a great deal of self-discipline, but also, occasionally, restraint – after he was diagnosed with lumbar strain in 2020, Wangjiang had to take a break from his strict training programme while he recovered.
How does he remain dedicated despite many difficulties?
Wangjiang says he remembers his favourite quote, by French writer Romain Rolland: "There is only one form of heroism in the world, and it consists in seeing the world as it is—and in loving it."
He says: "Weightlifting is extremely boring compared with other sports, and there are only three or four competitions a year to prepare for, with a constant repetition of the training programme. Without a love for the sport and perseverance, it's hard to produce results."
Wangjiang already has his eyes on the next prize – he recently received offers from Manchester University and Loughborough University, and hopes to stay in the UK for a few years after his postgraduate studies and continue training to win a gold medal while he works.
By Luyao Wang
Edited by Patricia Pieterse
Photos courtesy of Haonan Wangjiang