The National Natural Science Foundation of China (NSFC) was established in 1986 to support basic scientific research across China and has an annual budget of over 30 billion RMB (4 billion USD).
The organisation recently released a list of grants awarded in 2023.
Over 4 million RMB in research grants was awarded to 13 projects proposed by XJTLU. The awarded projects cover multiple subject areas, including mathematics, chemistry, life sciences, engineering and material science, information science, and management science.
Two of the successful projects, both from the School of Advanced Technology (SAT), were awarded funding in the General Program category. The remaining 11 were in the Young Scientists Fund category.
In previous years, both categories have received around 20,000 applications in total and had a success rate of just over 17%.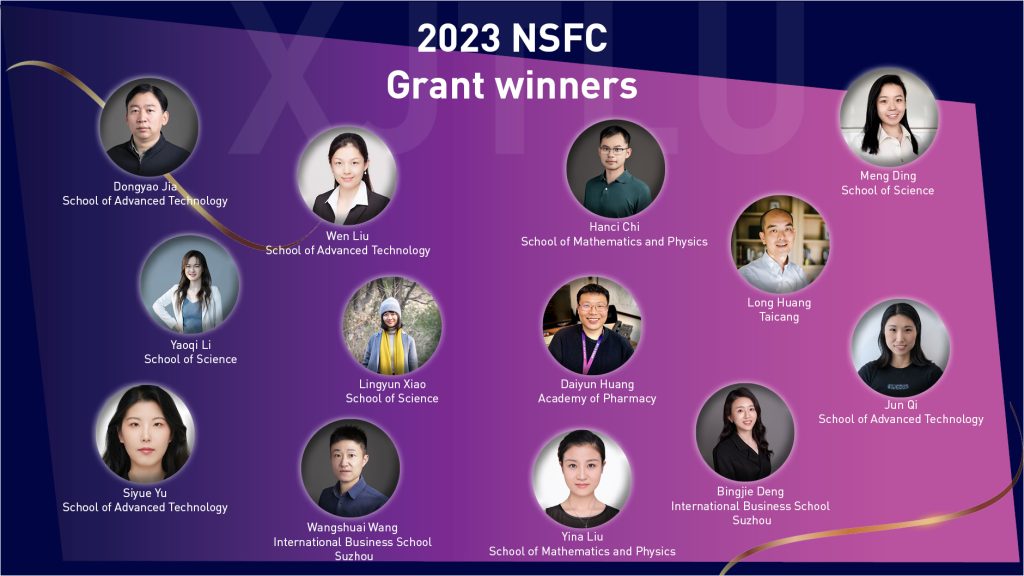 Professor Zhoulin Ruan, XJTLU's Vice President of Academic Affairs, says: "This year, the University's projects have once again been highly recognised by NSFC, which is the result of the long-term efforts of our researchers, as well as the fruit of their passion and persistence. Their unremitting hard work and dedication have energised and fuelled the University's development in scientific research.
"The University has consistently increased its support for scientific research in recent years by steadily promoting organised research projects, strengthening the coordination and planning for various types of government-supported projects, and providing guidance for researchers in every aspect, such as policy interpretation, topic selection, content writing, and project registration.
"XJTLU researchers also actively participate in all kinds of academic exchanges and cooperation initiatives, laying a good foundation for the smooth execution of many research projects," says Professor Ruan.
"In the future, we will continue to make efforts in guiding as well as organising key government-supported projects, strengthening the organisation of research teams and the training of researchers, and promoting the development of the University's scientific research in general."
By the XJTLU Scientific Research Management office
Edited by Catherine Diamond and Luyun Shi