Poster Day is a chance for PhD students at Xi'an Jiaotong-Liverpool University to practice their presentation skills and receive feedback on their work.
An annual event at XJTLU, this year's Poster Day included 29 different PhD studies and attracted over a hundred participants.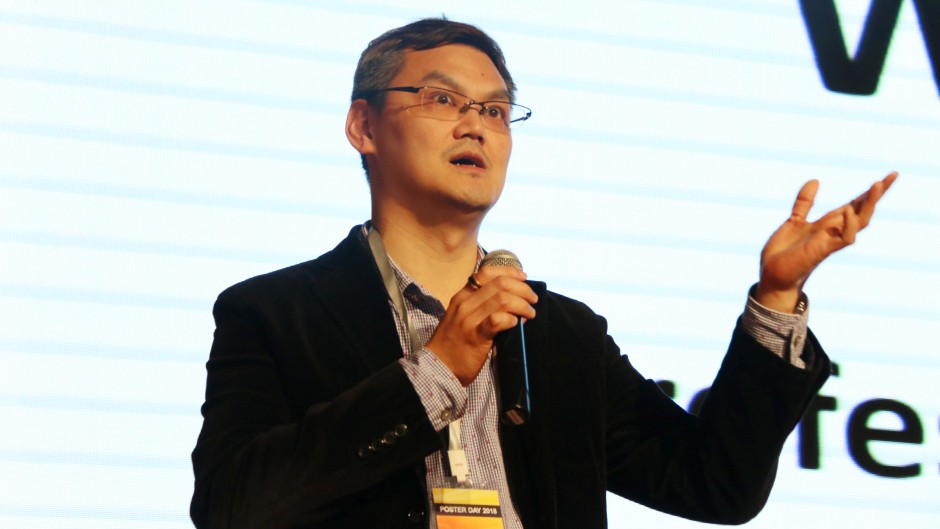 "The aim of today's event is to foster a strong and vibrant postgraduate research community at our University," said Professor Eng Gee Lim, dean for research and graduate studies. "It allows information and feedback to be freely exchanged between subject areas and departments in a friendly and supportive environment."
Ilesnanmi Olade (pictured below), a PhD student in the Department of Computer Science and Software Engineering, presented his project, 'Semantic-lock gesture authentication for mobile devices'.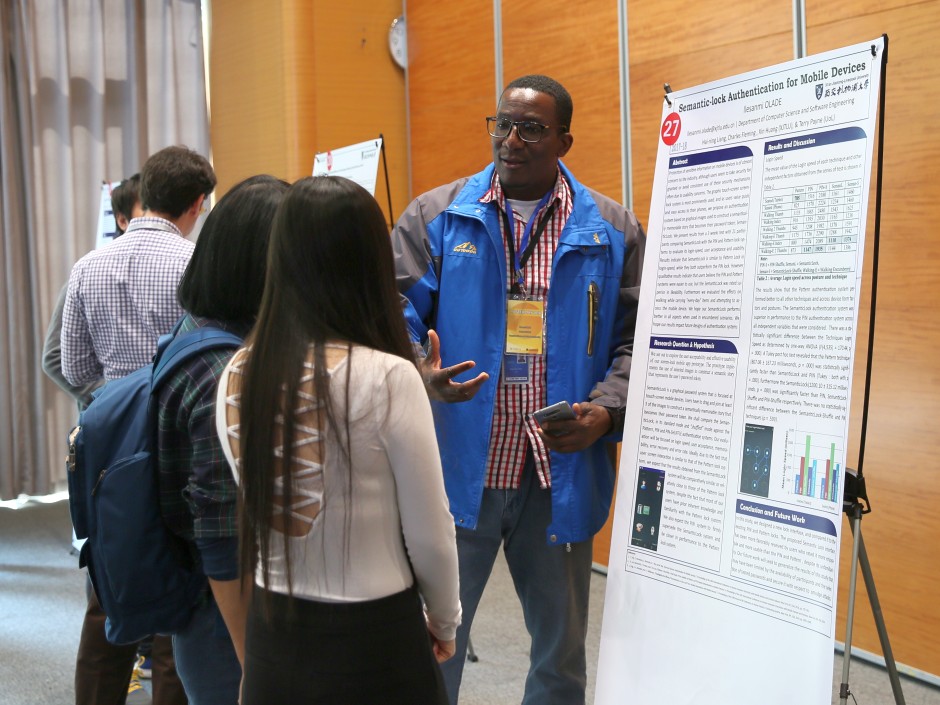 "The Semantic Lock is an alternative to other touch-screen lock systems like PIN and Swipe," explained Ilesanmi. "You use images to construct a memorable story that becomes your password.
"We've had good results in terms of time performance, and this type of locking system should be effective against 'shoulder surfing' - people spying on your password from over your shoulder," he said.
Ilesanmi noted that semantic locks will be particularly effective in virtual reality environments, and he is working on prototypes with guidance from his main supervisor Dr Hai-Ning Liang, who also leads other VR-related projects.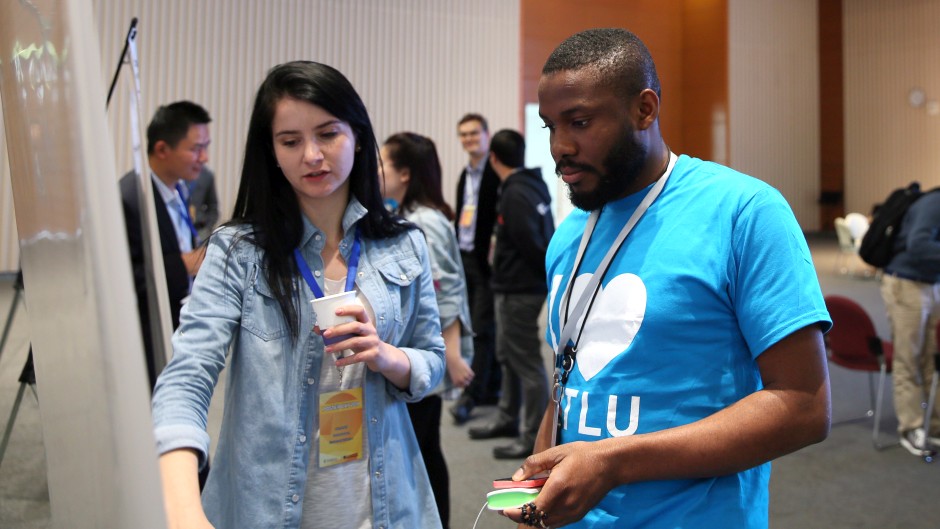 Pelin Kinay (pictured above, left), presented her project, 'Climate change adaptation and human health: reducing climate change health risks in the ageing Chinese population':
"I conducted a survey of elderly Chinese people to find out their attitudes toward climate change and their awareness of the health risks," explained Pelin. "The majority of respondents agreed that climate change is happening, and some were aware of associated health issues such as heat stroke and respiratory problems."
Pelin's cross-disciplinary study is supervised by Sujie Qin from the Department of Environmental Science at XJTLU, and Elmer Villanueva from the Department of Public Health.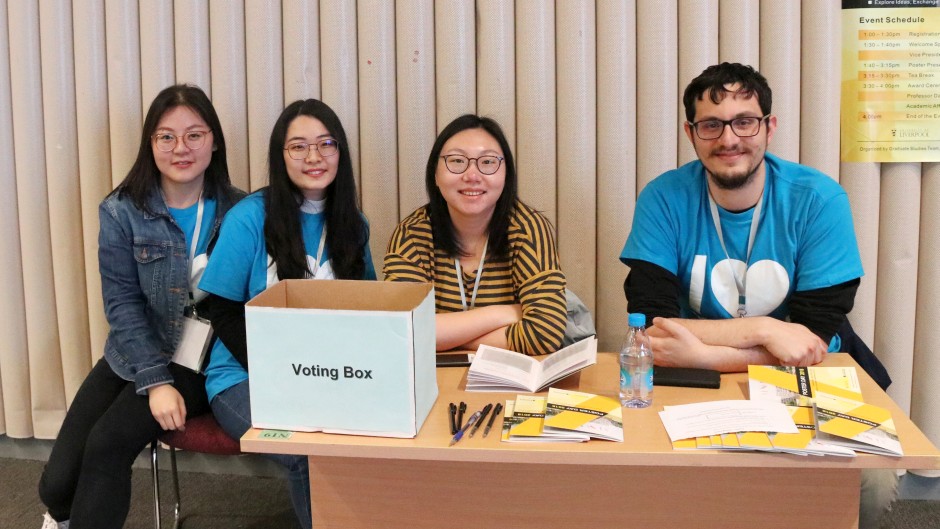 As with previous years' Poster Day events, the posters were assessed by a panel of academic judges as well as by participants who voted for their favourite posters.
Francesco Flammini (pictured above, right) is pursuing a PhD with the Department of Mathematical Sciences, and worked at the voting table at Poster Day 2018:
"Participating in this event is good practice for doctoral students," said Francesco. "Everyone should be able to explain their work to a general audience."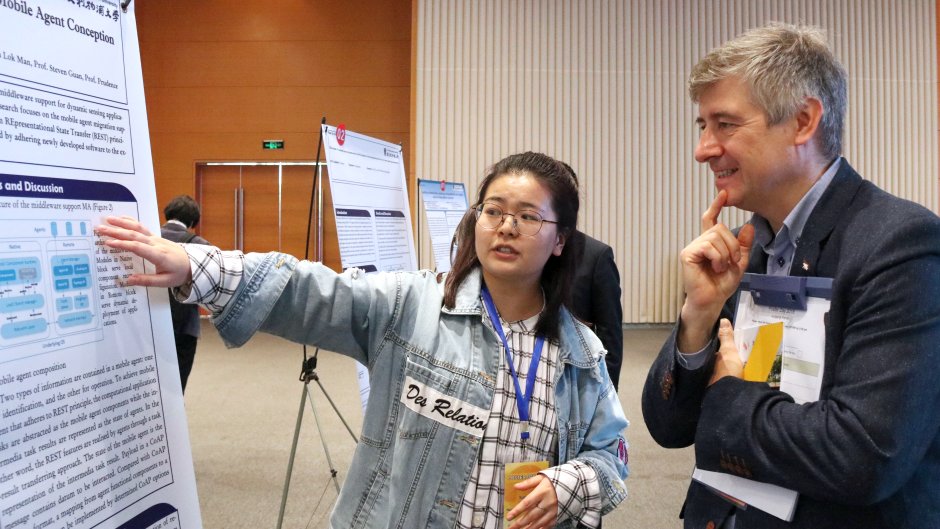 Victor Chang, lecturer in information management and information systems at International Business School Suzhou who was part of the judging panel, commented:
"This type of event is key for interdisciplinary research. It encourages people to interact with others outside of their usual sphere and possibly find collaborators for future projects. Also, making the posters is a useful exercise to clarify your ideas and present them in an accessible way."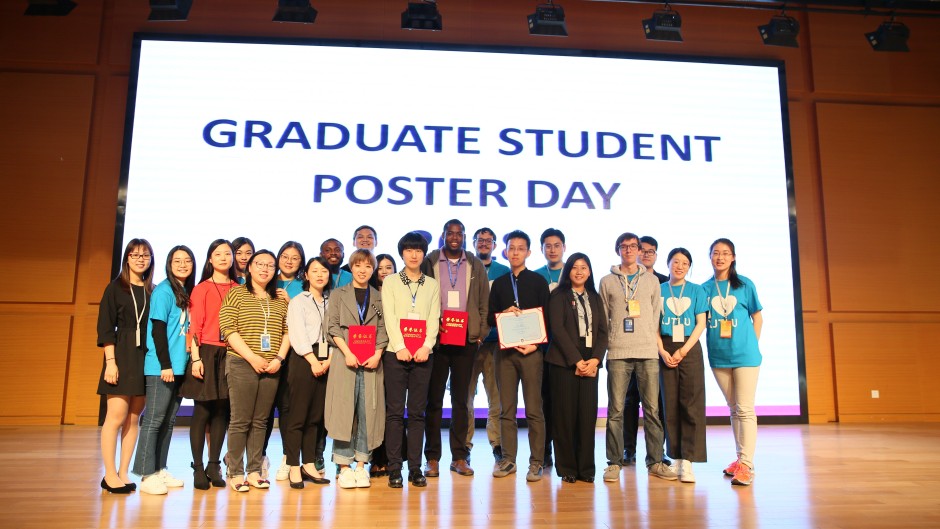 The winning posters this year were:
Williamson Gustave, 'Arsenic mitigation in paddy soils by using microbial fuel cells' – Most Popular Poster
Liwen Jiang, 'Understanding the mechanism of action of TRPA1 channel in migraine aura' – Third Prize
Li Shen, 'Development of a fluorescence-labelled GnRH ligand' – Second Prize
Xuan Zhao, 'Discriminative clustering for feature grouping' – First Prize
by Danny Abbasi; photos by Yuanyuan Du and Wenjiao Gu