On 21 July, Xi'an Jiaotong-Liverpool University Entrepreneur College (Taicang) witnessed the graduation of its first cohort of 230 undergraduates, who are forging diverse career pathways.
This group includes individuals who have showcased talent in worldwide robotics competitions, embarked on postgraduate studies at Harvard University, secured jobs at ByteDance, and demonstrated excellence in the realm of e-commerce.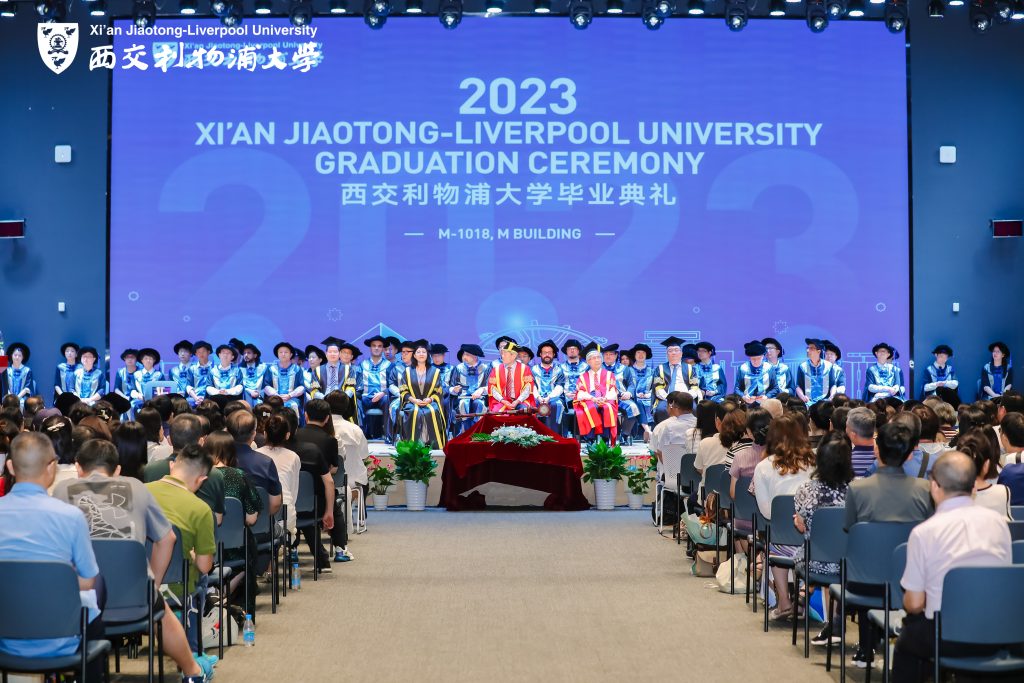 XJTLU Graduation Ceremony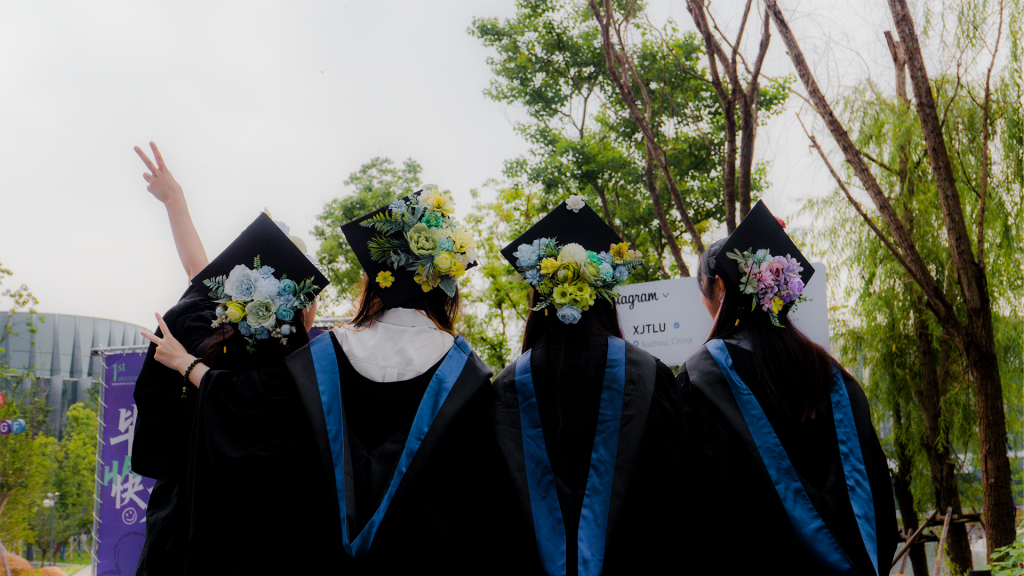 Graduates enjoy the graduation season at XJTLU Entrepreneur College (Taicang)
Robots and me
Haohua Zheng, a graduate of BEng Intelligent Robotics Engineering with Contemporary Entrepreneurialism, is set to lead his team in the finals of the RoboMaster University Championship in Shenzhen this month.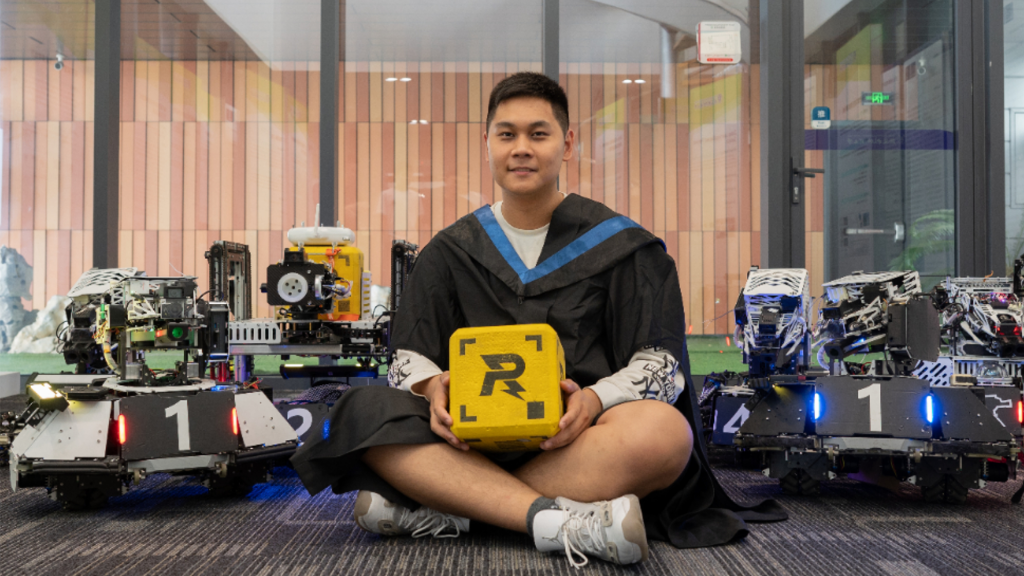 Haohua Zheng with his robots
RoboMaster is one of China's largest robotics competitions, attracting participation from over 300 universities around the world.
Recalling the journey, Zheng acknowledged the immense challenge of designing robots from scratch. Despite receiving a consolation prize in their first provincial-level competition, he and his team remained undeterred. Their dedication paid off when they emerged victorious and won first prize in the national-level competition the following year.
Zheng said: "In addition to the competitions, the mechanical design course at XJTLU equipped me with the ability to design and analyse complex machine structures. It enables me to grasp the theoretical knowledge of robotics. I also get to apply the knowledge to coordinate robot development-related tasks across different teams."
Looking ahead, Zheng will pursue a master's degree in mechanical engineering at the University of Western Ontario, Canada, starting this autumn.
Love at XJTLU
Jinge Mao and Zhirou Li, both demonstrating excellent academic performance, have been admitted to Harvard University. Their academic journey began at XJTLU, so did their love story.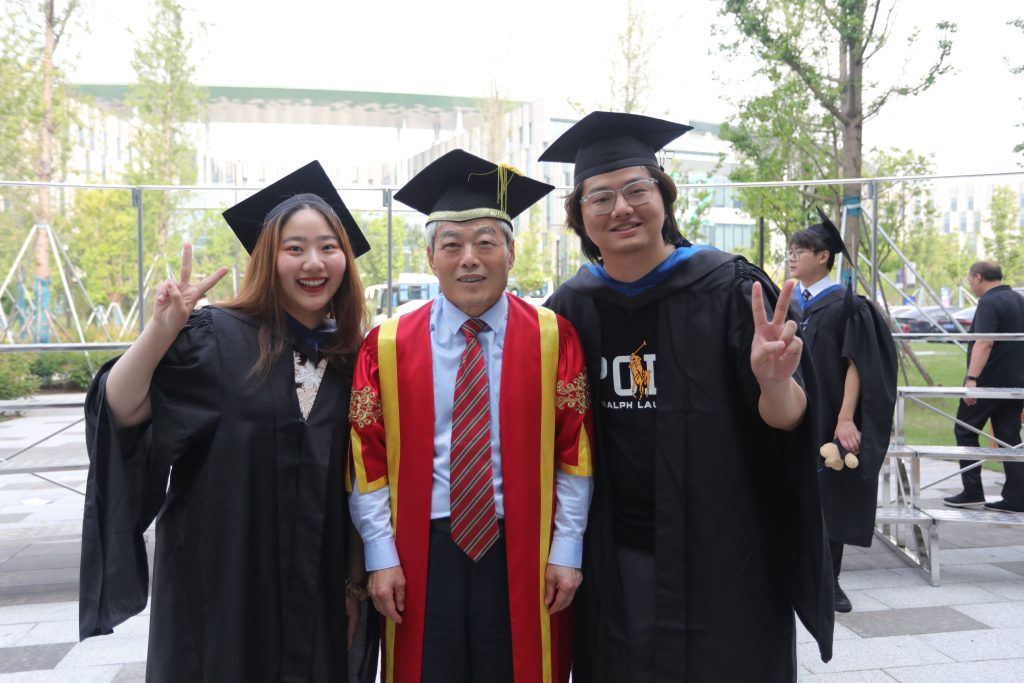 Zhirou Li (left) and Jinge Mao (right) take a photo with President Youmin Xi (middle)
They fell in love during a blockchain competition in Year Two when they were assigned to the same team. Recalling their shared memories, Mao said: "Zhirou and I walked together along the Ligong Dike on summer nights, and watched shooting stars on the lawn of Moon Bay. We often stayed up all night studying together too."
They both participated in the Summer Undergraduate Research Fellowship programme, and collaborated under the guidance of Professor Jia Meng at the Department of Biological Sciences.
Mao emphasised the importance of extensive literature review and methodological development in fostering innovation. "Zhirou and I thoroughly explored the existing prediction models, aligning them with our research objectives, and introduced a feasible new approach," he said.
Their research project was subsequently published as a paper in the International Journal of Molecular Sciences.
Self-directed learning
Guoao Chen, a graduate from the School of AI and Advanced Computing, holds the position of Product Manager for Video Architecture at ByteDance (Beijing), TikTok's parent company.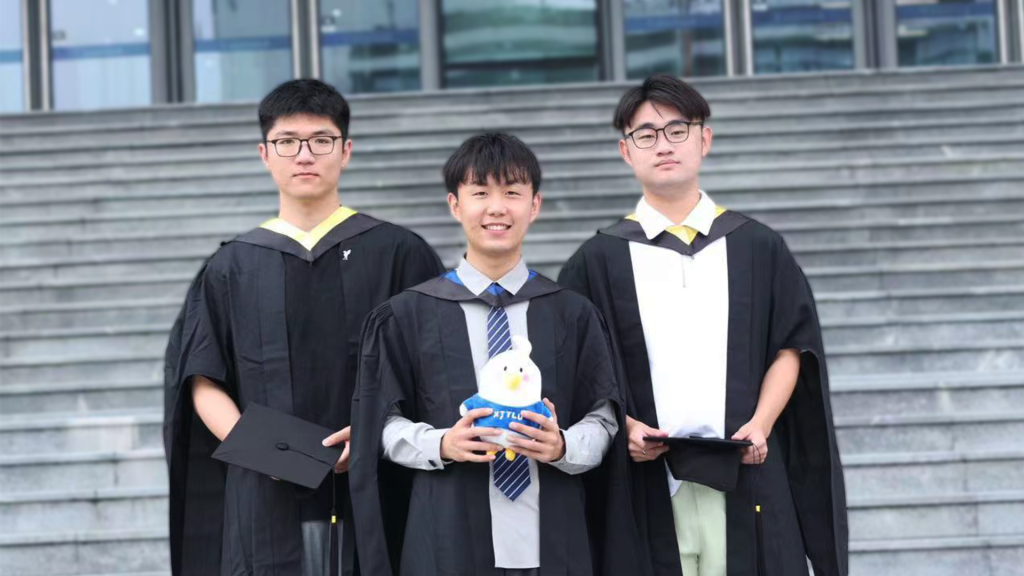 Guoao Chen (middle) with his friends at the graduation ceremony
His career opportunity stemmed from the self-directed learning skills he developed at XJTLU Entrepreneur College (Taicang).
Upon returning to campus in Year Two after the pandemic, Chen realised that he was unfamiliar with the facilities and services on campus. "Apart from a few familiar spots, I struggled to find basic resources such as water dispensers, printers, charging stations, and study rooms on campus," he recalled.
Determined to tackle this issue, he embarked on a mission to explore every corner of the campus. Within a week, he launched "Where is XJTLU", a WeChat mini-program that provided a comprehensive map of various campus resources and services. The program attracted over 2,000 users in a short time.
During the winter break, Chen upgraded the mini-program to make it more user friendly. He renamed the version "Youpu".
"You could say 'Youpu' is an XJTLU version of Baidu Baike [China's equivalent to Wikipedia]. Right now, it has over 20,000 registered users and more than 500,000 page visits," Chen said.
A student entrepreneur
Dongjun Zhao is a graduate of BEng Intelligent Manufacturing Engineering with Contemporary Entrepreneurialism. During his university years, he actively engaged in discussions with professors, collaborating on real-world entrepreneurial challenges. These experiences paved the way for him to build his e-commerce business.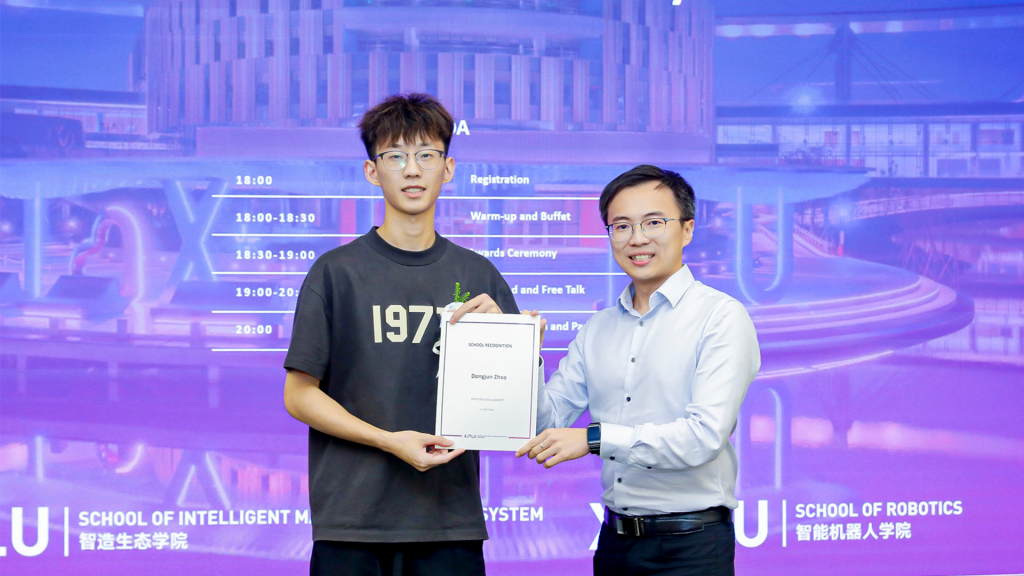 Dongjun Zhao (left) receives a certificate from the School of Intelligent Manufacturing Ecosystem
In Year Three, Zhao ventured into e-commerce on Douyin, the Chinese version of TikTok, selling over 10 million RMB worth of home appliances. In that year, his business repeatedly claimed the top spot in monthly sales in the home appliances category, maintaining the highest sales growth on Douyin. His company also achieved sales records surpassing renowned official flagship stores such as Huawei and Vivo.
Zhao credits his success to the guidance and support he received from Dr Yuyi Zhu and Dr Andrew Huey Ping Tan from the School of Intelligent Manufacturing Ecosystem.
In 2022, Zhao faced a problem with the air conditioners he had sold due to damage caused by product design and materials. Recognising the issue through customer feedback, he reached out to Dr Zhu for help. Together, they redesigned the air conditioner and conducted a simulation to test its quality. Zhao then presented the modified design to the factory owner, resulting in reduced product damage and increased sales.
During his final year project stage, he worked with Dr Tan to optimise the supply chain of the washing machines he sold on Douyin. "The supply chain served as the foundation for making our washing machine a bestseller," Zhao said.
Professor Xi's message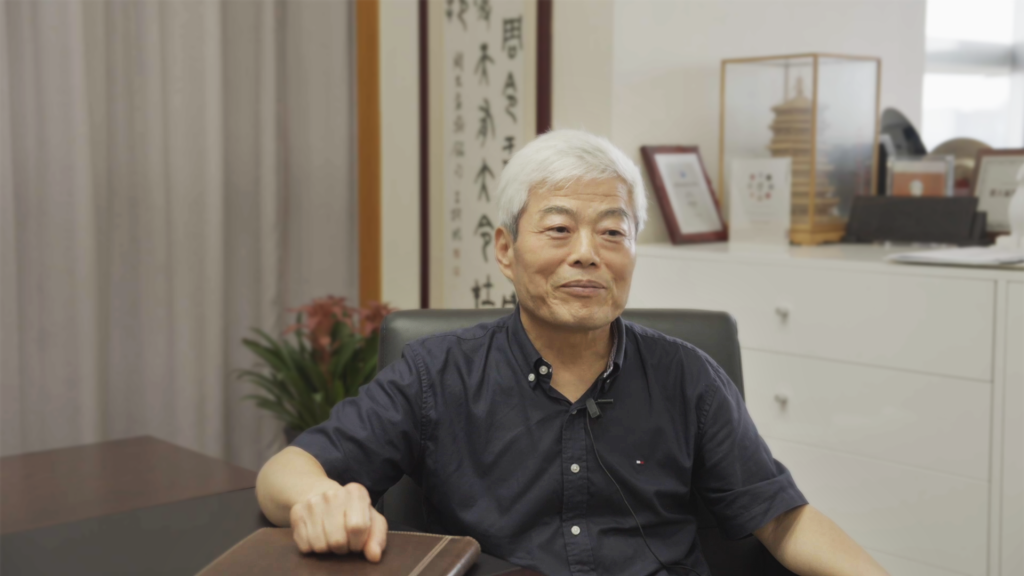 Professor Youmin Xi, Executive President of XJTLU and Principal of XJTLU Entrepreneur College (Taicang), says:
"The students of XJTLU Entrepreneur College (Taicang) are a diverse group. In a rapidly changing society, enrolment rate is not the only method to measure personal success. Instead, every student can find their passion, identity, and the future goals. This is what we aspire to see, and this is a way to measure the operational success of the College.
"The education at Xi'an Jiaotong-Liverpool University is future-focused. We encourage all the students to foster an optimistic mindset and seize opportunities available to them. XJTLU students know where their interests lie. They are able to embark on a successful and fulfilling life journey, and contribute to society with the job they do. This is my expectation for all XJTLU students."
By Haolun Xu
Edited by Xinmin Han and Patricia Pieterse
Photo courtesy of Guoao Chen, Jingrui Duan, Jinge Mao, Dongjun Zhao, Haohua Zheng, and Haolun Xu